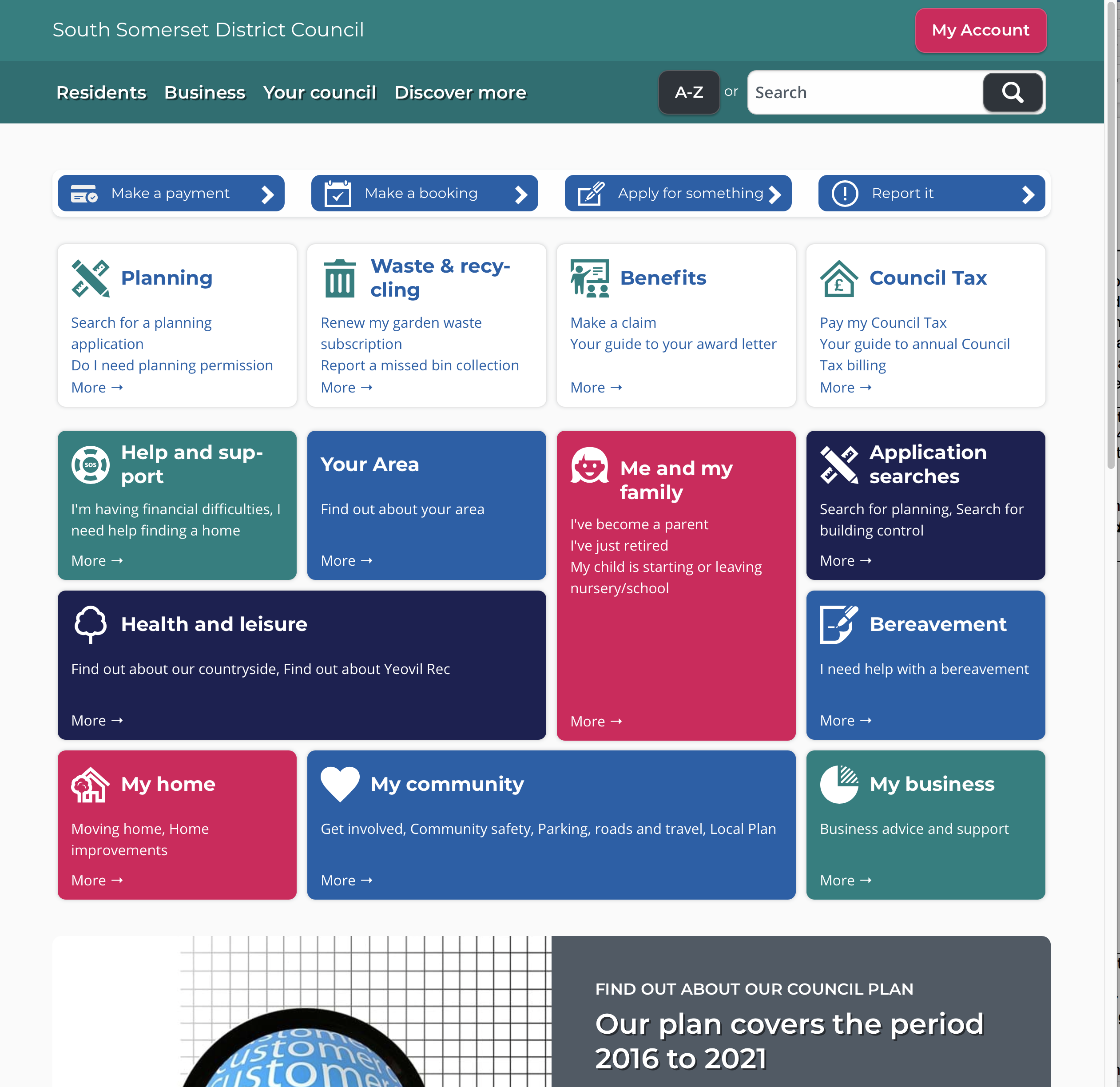 South Somerset District Council's website
Features:
The new website we designed allows you to find information, report an issue or make a request wherever you are and whenever you want.
Some of the new features include:
Quick links. The most popular services are now easy to find. Searching planning applications in your area, checking your bin collection days and the rest of our most common requests can now be done in just a couple of clicks! Simply select the link on the homepage.
Action buttons. Notice litter on the streets or an overflowing bin when out and about? Report the problem on the go with the new 'Report It' function. If you are signed in, you won't need to re-enter your information, simply pin point the issue on the map and hit submit. Converting your loft? There is now no need to wait until our offices are open to begin your planning application. Submit your application and plans online or book an appointment with a member of our team to discuss your options.
Life events. We understand that if something major is happening in your life, you want to get all the help you need as quickly as possible. Our new life events section gives you access to all the relevant information in one place. Welcoming a new arrival? Find out about registering the birth, let us know about your situation and find information about child benefit all at the same time.
Page layout. It's not just the homepage that has a new look! To save you time, we have organised our pages into handy drop-downs so that you only need to read what is relevant. Click on the arrow to expand the section you are interested in. You may also notice a new button at the bottom of some pages, clicking this will take you straight through to the correct form for you to complete.
Residents and businesses. Tired of seeing information that is irrelevant to you? We now have tailor made homepages for both residents and businesses, making it even easier for you to find the service you are looking for. Toggle between the homepages using the buttons at the top of the page.
Affinity won the contract to undertake a full Discovery and Design service for South Somerset District councils new Website (we'd a;ready designed and helped build thier intranet). They had a small IT team with the capability to build the solution in Umbraco from our approved Designs. We are delighted to say this work led to us actually supporting their dev team in the actual build phase. We then went on to Design their new website which is due to go live next month.
The challenge with both the website and the intranet was to produce a solution that met all the disparate user needs whilst also taking into account the organisational transformation South Somerset District council was going through. Their 'New way of Working' saw the loss of all current roles and job titles, with every roll being re-defined and organisationally re-structured.
The key outcome being that the residents, business people and visitors get a much simpler and joined up experience while interacting with the council. This of course meant that the clear and precise distribution of the Council's serviceswas even more critical and had to be communicated to the staff via the new Intranet and reflected in the new website.
Our Discovery workshops included card sorting exercises, Empathy mapping one-to-one interviews and low to medium prototyping for UX and IA. As with all council websites they where very data heavy and finding the clearest and simplest way to navigate to a primary need of the user was key. This often led to multiple paths to one piece of information. Our Discovery service included helping South Somerset District Council understand how some of the latest open source technology, features and functionality could help with operational effectiveness and general efficiency.
Our content support team helped ensure we had clear and effective signposting content as well as optimised data gathering systems from complex forms to simple sign ups. Our work with GDS has really helped us become expert in the digital-interpretation of traditional forms.
Our technical director was one of the key members of the team and has a wealth of experience around site SEO evaluations and recommendations. He ensured that the websites architecture and content was optimised to be search friendly. He provided advice as we do for many clients helping to optimise the site structure to make better use of the content displayed. Our UX/UI team also have a thorough understanding of on-page optimisations surrounding architectural and content layout to maximise exposure.
Project Details
Client
South Somerset District Council
Profile
A district council based in the South West
Project
As part of their digital transformation programme, SSDC required a supplier with UX and Umbraco skills to assist in designing and implementing their Umbraco staff Intranet and public website.
Platform
Umbraco
Sector
Public
Applications
DAM, CMS,